Now that the name "Sherpa" has been indelibly etched into my brain as a great alternative name for Sheepshead, I wish to share with you a gastronomically amazing fish stew I whipped up today. You don't get a lot of meat in fillets from the sherpa, which is unfortunate since it is one of my favorite fish to eat. With winter approaching and the sherpa in big numbers, I came across a recipe for a sherpa stew in Florida Sportsman magazine, and of course I had to modify it slightly to make it work for me. This will allow you to gain the maximum enjoyment from the sherpa, and it is pretty darn easy to make. We had it today and it floored us how good it was. Enjoy!
Sherpa Stew
First, it is essential to make Sherpa Stock. You cannot get the true epicurean enjoyment of Sherpa Stew without the stock. It is well worth it - and hey, I am nothing if not a creature of "Waste not, want not" - I cannot stand to see good food and ingredients got tossed out - it is an insult to this chef. And so, you should always strive to make something tasty out of what most people would toss out.
Sherpa (or any fish, really) stock:
Ingredients:
3 Tablespoons Olive oil (regular, not extra virgin)
Carcasses and heads (all guts removed) of 2-3 large sheepshead (or mangrove snapper, or just about any fish, really)
1 cup diced yellow onion
1 cup chopped carrots
1 cup chopped celery
2 cloves diced garlic
1 cup white wine (any, but a good dry white wine is preferred)
2 Tablespoons kosher salt
1 Tablespoon dried thyme (or 5 sprigs fresh)
2 Teaspoons fresh ground black pepper
3 cups water
Heat the oil in a stockpot over medium heat. Add vegetables and saute about 15 minutes or until lightly browned. Do not overcook! You want them nice a soft but not burnt. Add 3 cups of water, white wine, salt, pepper, thyme, and the fish carcasses and heads.
Bring to boil, then reduce heat to a simmer for 1 hour, stirring occasionally. Strain all the broth and solids through a fine sieve (pasta strainer can work as well) into a bowl - take your time, push the ingredients down gently to get as much broth as possible.
Sherpa Stew
4 fillets of fish (sherpa preferred, though you can throw in some mangrove snapper if you wish) cut into bite sized chunks
1 stick unsalted butter
2 cups chopped carrots
1 cup chopped onion
1 cup chopped celery
4 red potatoes, peeled, diced fine
1 can corn
1/4 cup flour
Sherpa stock
3 cups water
1/2 cup half and half
Fresh chopped parsley or 2 Tablespoons dried parsley
In a heavy pot, melt butter. Saute carrots, onions, celery, potatoes, and corn over medium heat for about 10-15 minutes until potatoes are starting to get soft. Add the flour, reduce heat to low, and stir for 3 minutes. Add the sherpa stock and water, and then increase heat to bring to boil. Cut back to medium heat, then add fish chunks and cook for 5 minutes. Add half-and-half and parsley, and salt and pepper to taste.
Serve with a crusty bread (baguette, french, italian, even cuban) and enjoy. Seriously, guys - this ROCKS especially in the winter time.
Sherpa stock cooking: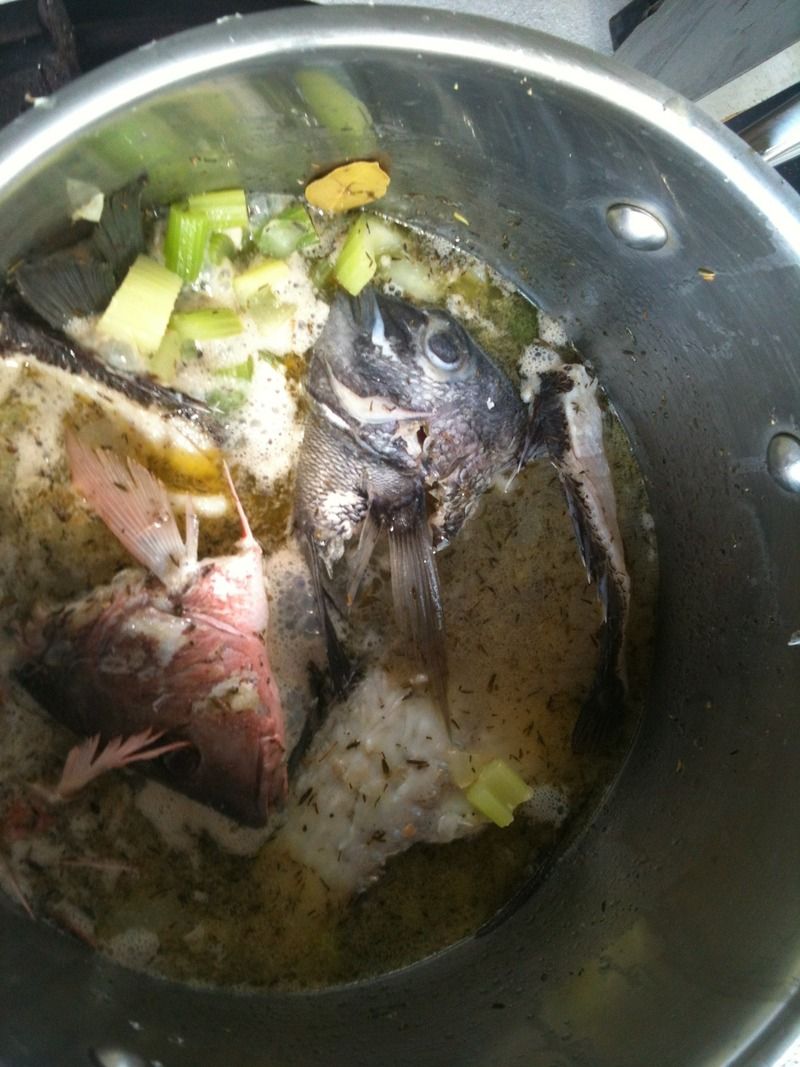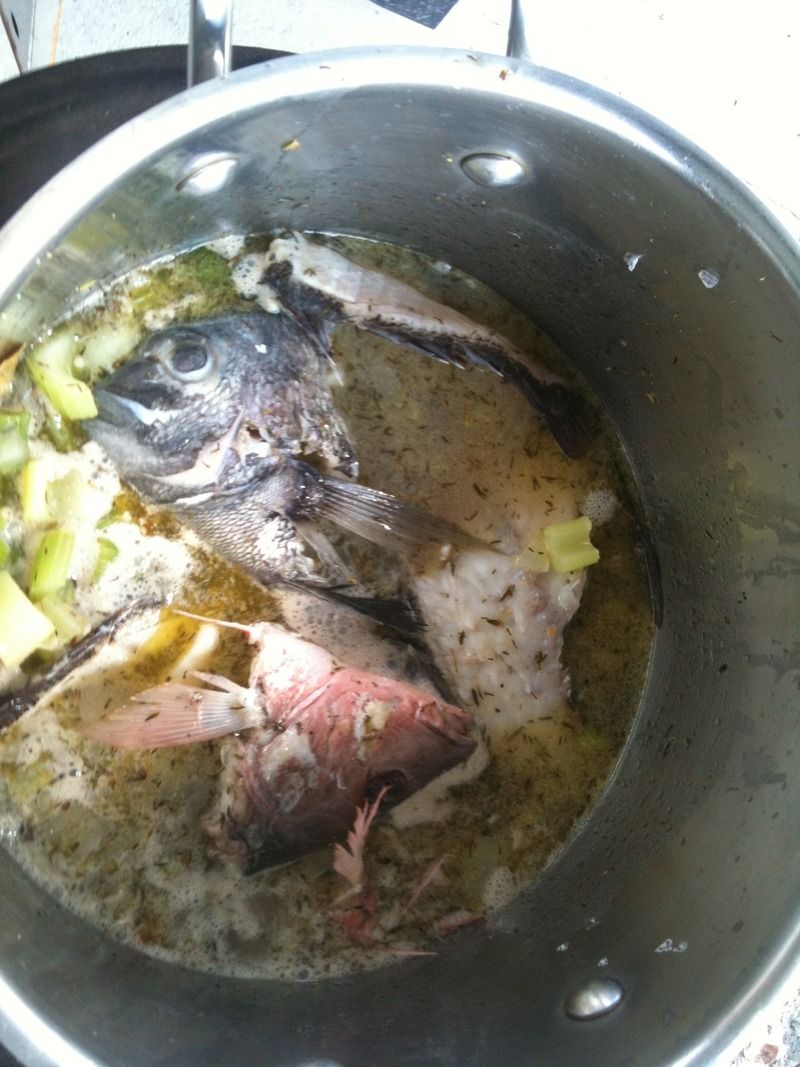 All done!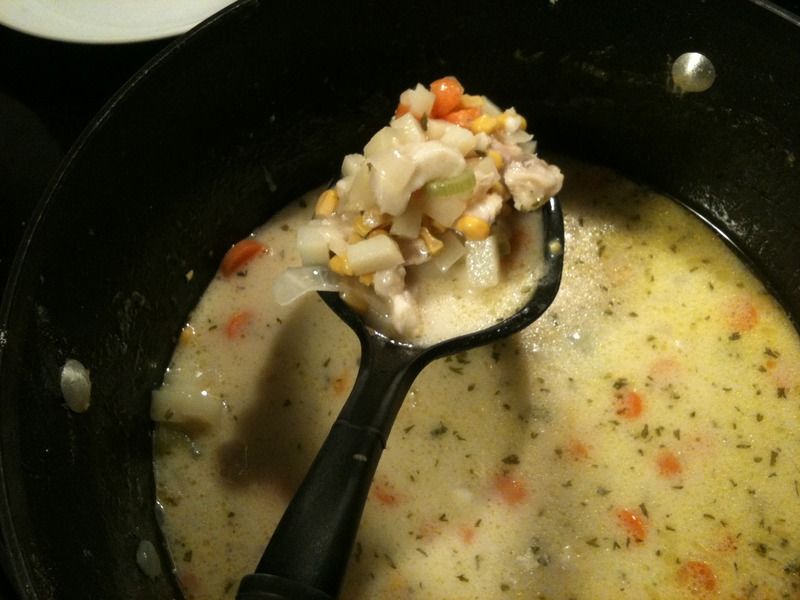 BTW - some may like to "heat it up" a little with some dashes of your favorite hot sauce - I recommend this! Cholula, Texas Pete, Tabasco brand, or anything you like should work just fine.